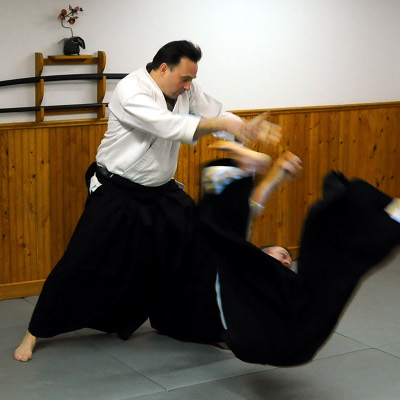 David Yates Sensei
David Yates Sensei, 6th Dan Shidoin with the Canadian Aikido Federation (CAF), began his Aikido training in 1980 at the Ottawa Aikikai under Richard Ostrofsky Sensei, a student of Massimo di Villadorata of the Montreal Aikikai. Yates Sensei received his dan rankings up to 3rd dan from Yamada Sensei, founder of the New York Aikikai and the United States Aikido Federation, and his 4th and 5th dan rankings from Kawahara Shihan, former Technical Director of the CAF. Yates Sensei was given the title of CAF Shidoin by Kawahara Sensei in 2008, and was promoted to 6th dan by Osawa Sensei in 2018.
As Shidoin, Yates Sensei has been invited to teach classes in cities across Canada and as far away as San Diego and Sydney, Australia.
Yates Sensei served 3 terms as President of the CAF and two terms as Vice-President. Yates Sensei also served on the board of the Ontario Aikido Federation over many years, holding every position on the board including President for multiple terms.
On February 11th, 1985, Yates Sensei opened the Kanata Aikikai located in his home, where it remains to this day. Since the opening of the Kanata Aikikai, Yates Sensei has trained hundreds of adults and children in his powerful but graceful style of Aikido.